SC&T Works with Hyundai Oilbank to Integrate New Base Oil Plant with Existing Plant
Lubricant base oil businesses are transitioning away from solvent-based plants towards those based on catalytic hydroprocessing, dewaxing, and hydrofinishing technology. Base Oil quality and yields are much higher and there is less dependance on a crude source. Additionally, it can be easier to make the high-quality Group II and III base oils that the current market demands.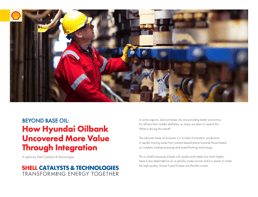 Hyundai Oilbank identified an opportunity to build a Group II lubricant base oil manufacturing plan adjacent to its South Korea refinery. Shell knew in order to integrate the new base oils plant with the existing line-up, Hyundai Oilbank needed to revamp the hydrocracker.
Shell was tasked with finding an inexpensive solution that would:
Increase the hydrocracker's throughput
Optimize its conversion
Increase its viscosity index
Increase the cycle length from three to four years
Download this case study to learn how Shell Catalysts & Technologies was able to increase Hyundai's plant value by obtaining stable, highly saturated Group II base oils.
Are you explaining similar challenges to Hyundai Oilbank? Contact a Shell Catalysts & Technologies expert to achieve maximum yield and quality for lubricant base oils.