Catalyst Performance a Priority for High-Value Base Oils
Industry changes have impacted the lubricant base oil business and the transition is affecting solvent-based plants. These changes are creating an industry-wide move from using solvent-based plants to those using catalytic hydroprocessing, dewaxing, and hydrofinishing technology.
Learn How Shell Catalysts & Technologies Can Help Achieve & Exceed Base Oil Goals By:
Assisting in the selection and application of the best catalyst for the plant.
Getting the most Group II and Group III production for maximum value.
Developing insights into key areas to meet market demands.
Enabling customers to obtain stable and highly saturated Group II and III base oils at maximum yield.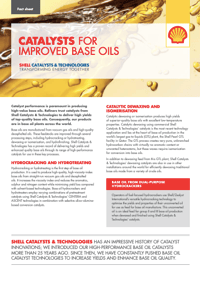 Download our whitepaper to discover how you can achieve high yields and top quality base oils with our hydrotreating and hydrocracking, dewaxing, and hydrofinishing catalytic technology.