ON-DEMAND WEBINAR
Affordable blue hydrogen production webinar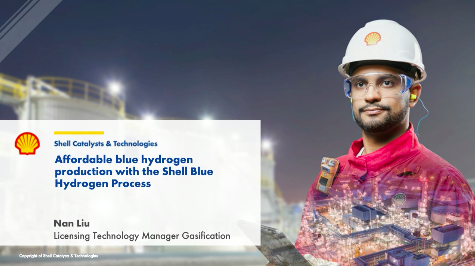 Are you under pressure to decarbonise existing operations? Are you a resource holder looking to create value from natural gas by becoming a low-carbon energy producer? This webinar may be of interest to you.
Nan Liu, Licensing Technology Manager Gasification, shares the economic advantages of blue hydrogen production using the Shell Blue Hydrogen Process.
Key Takeaways
With carbon dioxide costs at $25–35/t, blue hydrogen is already competitive against grey and, according to the International Energy Agency, green hydrogen will remain more expensive beyond 2030.
For greenfield projects, oxygen-based hydrogen production systems offer advantages over steam methane reforming.
The Shell Blue Hydrogen Process can cut the levelised cost of hydrogen up to 22% compared with autothermal reforming through reducing capital expenditure by 17% and operating expenditure by 34%.
Submit the form to the right to access the webinar.