FCC-PT/FCC unit revamp scenario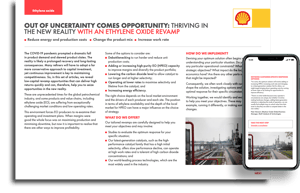 In today's environment, yield shift flexibility and low-cost operations can be key to competitiveness. Refiners could consider revamping FCC-PT and FCC units to:
Process more-difficult, low-value feeds
Increase petrochemical yields
Optimise on-stream days for better turnaround alignment
Shell Catalysts & Technologies' FCC-PT and FCC experts have developed the know-how and experience to help refineries meet the economic ambitions for their units by implementing optimum integrated solutions. Explore the FCC-PT/FCC unit revamp scenario for solutions and case studies that show how a:
Shell US West Coast facility increased safety and reliability along with margins
European refiner plans to unlock performance gains
Shell US Gulf Coast facility increased feed flexibility and boosted bottoms conversion
US refiner plans to maximise on-stream days, reduce costs and align turnaround cycles
Download the FCC-PT/FCC unit revamp scenario
Submit the form to download the scenario and explore how you can process more-difficult feeds, improve operational availability and increase petrochemical yields.