Hydrocracker revamp scenario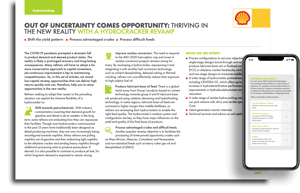 Low-capital revamp opportunities can deliver high returns quickly. Refinery operators can respond dynamically to market changes by taking advantage of the hydrocracker's inherent flexibility to:
Shift towards petrochemicals
Improve residue conversion
Produce lubricant base oil feed
Process advantaged crudes and difficult feeds
Shell Catalysts & Technologies has worked with refiners worldwide to help them increase capacity, adjust conversion to impact yield profile, and extend cycle length by increasing crude flexibility or mitigating fouling.
Explore the hydrocracker revamp scenario to find out how:
Hyundai Oilbank's refinery shifted to a heavier, lower-cost crude blend
Shell's Pernis refinery revamped its HYCON residue hydroprocessing unit to a DAO hydrocracker
Shell's Norco refinery revamped its hydrocracker to maximise diesel instead of naphtha
SASREF increased diesel yield, cycle length and safety with a low-cost hydrocracker revamp
Download the Hydrocracker revamp scenario
Submit the form to download the scenario and learn how shifting the yield pattern, processing advantaged crudes and processing difficult feeds may be achieved with a low-cost hydrocracker revamp.