Making Every Molecule Matter Through the Energy Transition
On November 5th, 2020, Shell Catalysts & Technologies hosted a live webinar event that is now available to stream on-demand. Two executive speakers, including the President of the company Andy Gosse, analysed business case studies that illustrate how petrochemical, refining, and industrial organisations can meet global demands for more and cleaner energy.
By submitting the form to the right, you'll be able to download the key takeaways document that summarises:
three energy transition case studies across industries
how to Make Every Molecule Matter
questions that were asked by attendees to the event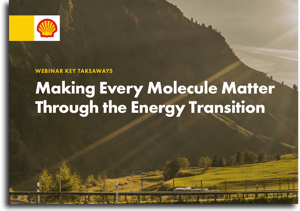 Shell Catalysts & Technologies' philosophy during the energy transition is to Make Every Molecule Matter. Download the key takeaways document to learn how that philosophy was introduced during the first of many Make Every Molecule Matter webinars to come.