Unlock Value From Your Hydrogenation Unit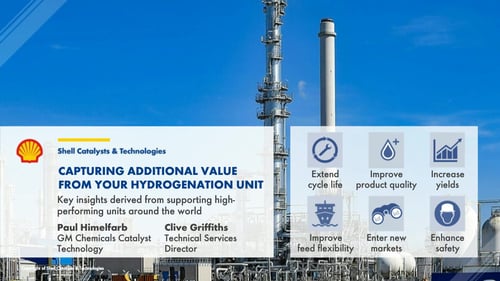 Watch the Webinar: Capturing additional value from your hydrogenation unit
GM Chemical Catalysts Technology, Paul Himelfarb and Technical Services Director, Clive Griffiths discuss:
Optimising catalyst selection
A technical dive into deactivation mechanisms
Integrated methods for enhancing unit performance
Key Takeaways:
Catalyst selection is key to enhancing unit economics. Potential margin improvements from resolving operational issues can be immense.
Value Estimates Include:
Increase feed rate for $7.7 million a year value
Lower cost feed from higher sulphur tolerance - a value of $7.3 million a year
Produce higher value products (e.g. White Oil) estimated value of $15.9 million a year.