Unlocking Value with Shell Reactor Internals for Fouling Abatement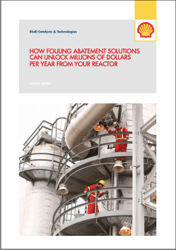 Fouling can dramatically curtail the performance and reliability of hydroprocessing reactors.
Refiners can substantially improve the profitability of their hydroprocessing reactors by using the latest-generation reactor internals. However, preventing foulants from reaching trays and internals are often overlooked.
In this white paper, learn how to:
Unlock value through fouling abatement in the reactor internals.
Identify the origin and characteristics of fouling.
Address fouling abatement using a three-tiered approach.
Access the Fouling Abatement White Paper
And see how leveraging Shell Reactor Internals improves profitability and can unlock millions of dollars per year from your reactor.