Reactor internals revamp scenario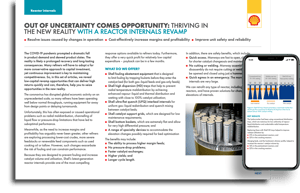 Many refiners are operating below their normal throughput and running equipment far away from their design points, which can expose or cause unit operation issues including:
Radial maldistribution
Channelling of liquid flow
Pressure drop limitations
Further challenges include fouling and shifting from crude oil towards petrochemicals.
Shell's latest-generation reactor internals are designed to resolve these issues for relatively low capital expenditure. Read the reactor internals revamp scenario to find out how:
PKN ORLEN's Plock refinery eliminated pressure-drop limitations
BP-Husky Toledo refinery unlocked high performance from its ageing hydrocracker
SASREF increased diesel yield, cycle length, and safety with a low-cost hydrocracker revamp
Petrobras moved to ULSD without having to invest in additional reactors or equipment
Preem increased its hydrocracker's diesel yield and eliminated thermal maldistribution
Download the reactor internals revamp scenario
Submit the form to download the scenario and explore how you may be able to resolve issues caused by changes in operation, cost-effectively increase margins and profitability and improve unit safety and reliability.