Meet net-zero emissions ambitions through affordable blue hydrogen production
Are you...
under pressure to decarbonise your existing operations or to meet net zero emission goals?

a resource holder looking for ways to thrive through the energy transition and to create value from natural gas by becoming a low-carbon energy producer?
In this whitepaper, Nan Liu, Licensing Technology Manager Gasification, shares how the Shell Blue Hydrogen Process (SBHP) improves the cost-effectiveness of greenfield blue hydrogen production, thereby making it an attractive investment option.
Download the white paper to learn how:
Oxygen-based systems offer better value than steam methane reforming (SMR) for greenfield applications.

The SBHP, which integrates Shell SGP and ADIP ULTRA technologies, offers key advantages over auto-thermal reforming (ATR), lower capital expenditure, lower operating expenditure, >99% CO2 captured and overall process simplicity.

Shell has a long, proven record in blue hydrogen production and is a market leader in developing full-scale CCUS projects.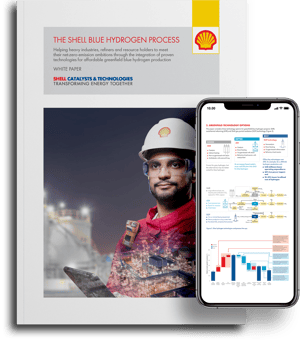 Learn how blue hydrogen production can help with net zero emissions ambitions. Access the white paper by filling out the form.