Shell Hycon Moving Bed Technology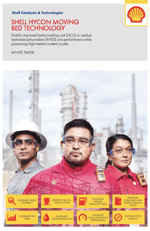 Enable improved hydrocracking unit (HCU) or residue hydrodesulphurisation (RHDS) unit performance while processing high-metals-content crudes.
Download the white paper to learn more about:
Shell's Hycon moving bed technology
How to debottleneck existing assets with low-cost revamps
A real-world application of Shell Hycon MB technology
---
Are you a refiner that...
is interested in processing high-metals crudes such as Maya?
has an RHDS unit constrained by the maximum allowable metals content in the feed?
is looking for a low-cost option for residue conversion?
If you answered yes to any of the questions above, this resource is for you.