Minimal to no capital expenditure with Shell Catalysts & Technologies' ADIP-X or Sulfinol-X technology.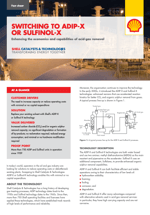 Operators in the oil and gas industry are in search of solutions to reduce operating costs and de-bottleneck existing plants.
The accelerated reaction kinetics of ADIP-X and Sulfinol-X can achieve both higher plant performance and operational stability.
By switching to ADIP-X or Sulfinol-X, operators can:
Enhance treating performance
Reduce steam requirements with lower solvent circulation rates and heats of reaction
Increase reliability with low levels of foaming, fouling, degradation, and corrosion
Increase facility CO2 or organic sulphur removal capacity
Reduce operating costs
Eliminate solvent reclamation
Download the Switching to ADIP-X or Sulfinol Fact Sheet
to discover how to enhance the economics of acid gas removal.