Vacuum distillation revamp scenario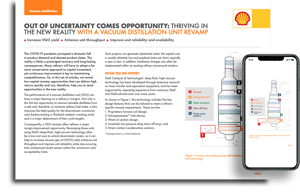 The performance of a vacuum distillation unit (VDU) can have a major bearing on a refinery's margins:
It is the last opportunity to remove valuable distillates from crude and to minimise refinery fuel oil make
It improves the feed quality for the downstream conversion units (hydrocracking or fluidised catalytic cracking units) and is a major determinant of their cycle lengths
Consequently, a VDU revamp offers refiners a major margin-improvement opportunity. Revamping these units using Shell's deep-flash, high-vacuum technology can often be a low-cost way to unlock downstream assets. Read the VDU revamp scenario to find out how this revamp technology can:
Increase vacuum gas oil yield
Enhance unit throughput and improve unit reliability
Ensure that contaminant levels remain within the conversion units' acceptability limits
Download the vacuum distillation revamp scenario
Submit the form to download the scenario and learn how to increase VGO yield, enhance unit throughput and improve unit reliability and availability.