Is your fixed-bed catalytic reactor experiencing any of the following issues?


High-pressure drop or thermal maldistribution?

Bottlenecked unit throughput?

Difficulty processing heavier feeds?

Unreliability or unsafe conditions?
If you answered YES to any of these, Shell Reactor Internals could be the solution.

---
With over 30 years of technology development and engineering process management, Shell Global Solutions has created custom-designed solutions for more than 1,700 reactors all over the world. Will your reactor be our next project?

Originally aired on September 27, Shell participated in a webinar, "Improving Profitability and Safety with State-of-the-Art Shell Reactor Internals." Throughout the discussion, Shell technology experts explore how reactor internals is addressing these known problem areas with examples from real clients.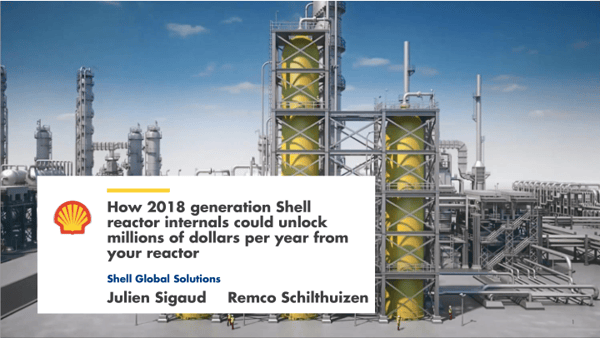 Featured speakers:
Julien Sigaud, Senior Hydroprocessing Technologist, Shell Global Solutions
Remco Schilthuizen, Mechanical Static Engineer, Asset Support DS & 3P/Licensing, Shell Global Solutions
Moderator: Lee Nicholas, Associate Publisher/Editor, Hydrocarbon Processing