Hyundai Oilbank's HVU / Hydrocracking Case Study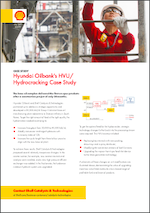 Hyundai Oilbank identified a strategic opportunity to build a lubricant base oil manufacturing plant adjacent to its Daesan refinery in South Korea due to increasing demand for Group II products.
Partnering with Shell Catalysts & Technologies, Hyundai charted a course of action that included:
Upgrading elements of the reactor section and fractionator
Revamping the HVU to increase yield and product spec
Devise off-take agreements to capture opportunities in the base oils market
---
THE REVAMP IMPERATIVE:
It is difficult to overstate the importance of the HVU and hydrocracker revamps to Hyundai's overall base oils project. To make the world-scale base oils project fly, Hyundai needed to provide more feed, but the project would have become uneconomical if that had required the installation of new process units. However, it is usually substantially more challenging to revamp a unit than to install a new one.
Nevertheless, the refiner, working closely with Shell Catalysts & Technologies, found ways to cost-effectively extract the additional feedstock that was required from the upstream units. Both revamps achieved their objectives and the new base oil plant met its performance guarantees.