Minimal to no capital expenditure with Shell Catalysts & Technologies' ADIP-X or Sulfinol-X technology.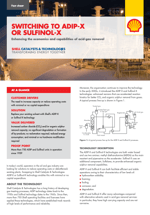 Operators in the oil and gas industry are in search for solutions to reduce operating costs and de-bottleneck existing plants.
The accelerated reaction kinetics of ADIP-X and Sulfinol-X can achieve both higher plant performance and operational stability.
By switching to these solvents, operators can:
Reduced steam requirements
Increased reliability
Enhanced treating performance
Download the Switching to ADIP-X or Sulfinol Fact Sheet
to discover how to enhance the economics of acid gas removal.